Arles remains the beating heart of international photography even in this strange summer, suspended between the shadows and the uncertainties of this pandemic. The awaited 51st edition of the Rencontres has been cancelled, but the "invisible enemy" has not stopped the world of culture: the Arles Contemporain association, made of art galleries and field professionals, has developed a multidisciplinary program that promises to make us feel less orphaned, through an offer that goes from cinema, to music, to art, in which photography takes pride of place. I willingly strive to think of things that I think others will not think of, wrote Boris Vian in his youth: to the eclectic French musician, Les Pionniers – an event that brings together exhibitions of six photographers in the 600sqm of the Manuel Rivera Ortiz Foundation (MROF), led by the artistic director Nicholas Havette – dedicates a tribute exhibition. Through the gaze of authors capable of exploring the world in unpredictable ways, Les Pionniers invites us to reflect on current and urgent themes. There is also a sort of refuge for artists as support in difficult times, creative forge, atelier.
Manuel Rivera-Ortiz, president of the foundation and photographer, told us something more.
The presentation of Les Pionniers says: "We invite you to ask yourself the question…if there are no more Terra Incognita or 'great explorers'… who are the real pioneers today?" Can you help us answer this question? Who are the "Pioneers" represented in this exhibition? Is every one of them a pioneer in a different way?
Pioneers, in this case, is not a person or a place or even a thing. Pioneers, in this case, is an emotion; it is a state of being inasmuch as it harkens to what should inherently be in all of us – an entrepreneurial spirit that forges forward despite the impossible. Here at the Foundation this year, our version of Pioneers implies artists – by way of a grouping of exhibitions – willing to perform as scheduled, bringing to all of us a visual interpretation of the world even through a pandemic! I suppose that in some philosophical way, Pioneers, to us right now, are artists continuing in their artistic trajectory while simultaneously coping with the perplexities of the world as we know it at this very moment. So yes, every one of us, even you, by continuing to do your work as you are, providing even an inkling of continuity and hope when it would be much easier to give up, is a Pioneer. I also think that Pioneers here speaks to the fragility of humanity as a whole. As people, we go through life imagining ourselves strong, but that strength is only as pervasive as the number of us simultaneously being strong. So often, especially now during an epidemic, we forget that to be a trailblazer, it doesn't require having to solve the world's most significant problems; sometimes, it requires having lived!
A Pioneer, traditionally, is someone, or a group of someone's who create the most good for the most significant number of people. I say that we are too grandiose when we only think about it in these terms. To me, a Pioneer can be someone whose life energy transcends or intercrosses someone else's life energy so as to help make a viable difference. Myself, my Pioneering act, besides my work, has been in this case, making it possible for others to present work on walls that can in some minute way possibly change someone's life. Is it measurable? No, Pioneering, in its most intangible, is hardly ever measurable. Math is measurable. Numbers are measurable; a cure to a disease is a measurable action. Here, though, the effects on others like in the matter of the sublime, well, not so quantifiable! I have lived; therefore, I have been. By having lived and having been – through horrors of a past I did not command or request – I am myself a Pioneer!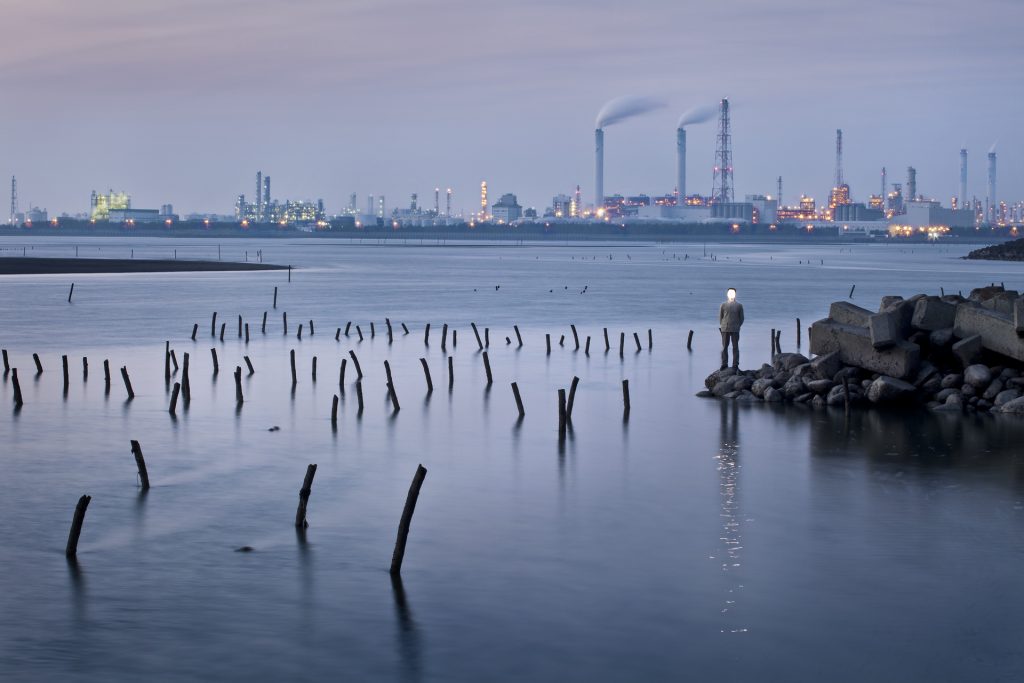 Exile and environment are critical themes in Les Pionniers. Still, photographers approach these subjects with a different, original perspective: I think about Sylvie Léget's work, Giving birth in Exile which shows resilience more than desperation, or Wu Cheng-Chang's Vision of Taiwan, which is a critique but also conveys hope and beauty. It is like speaking instead of shouting. What is your opinion?
It is a different offshoot of a similar perspective with slightly different results. You see, the spirit has a role to play here. Future tense, as opposed to present tense, is, in the arguable aggregate of the heart and the purpose of our collectively perceived tomorrow, continuity despite what is here today! So, are the words "exile" and "environment" too strong for us to use here? No, in their essential multiplicity, these words are not. By this, I mean that, say, in Léget's work, there is, of course, the today of exile and resilience (as you put it) and the survivalist spirit of making the most today despite what we do not know about tomorrow. But in the whispering tomorrow, after the song is sung, an inclination of something bigger emerges. After the curtains go down, or the women in Léget's pictures manage to survive despite being in displacement. Here the quietness of the continuity comes into greater focus. It follows in what might, could, or will yet be in the tomorrow of those children and, by extension, on our own tomorrow! We cannot know here today what hasn't yet come to be. We cannot know today that any one of these children born in exile might become a doctor who cures diseases or the next Einstein developing their theory of relativity versus a taxicab or a tram driver in Geneva, Switzerland! For that matter, we can't know if any of these children born female will grow up to be the next Marie Curie, naturalized French from Poland conducting pioneering research on radioactivity!
In Wu Cheng-Chang's Vision of Taiwan, the shout comes in the pressing precipice of what will become of a people whose cultural relevance and independence hangs on a balance as we speak. Yes, the work may not itself scream, but the implication itself is jarring!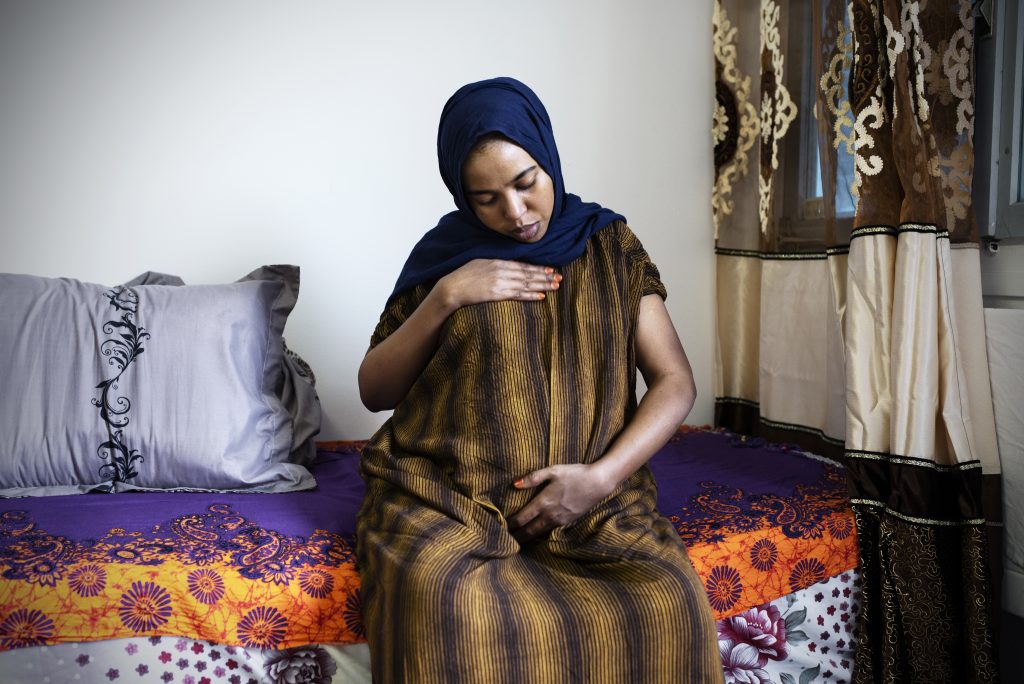 One of the exhibitions is a tribute to Boris Vian, an eclectic and unconventional artist, whose 100th anniversary is celebrated this year. He was a musician, a writer, and, in a sense, a pioneer during his life. What is his legacy today? Why did you choose him, and how is the exhibition organized?
To me personally, and this is very important here, Boris Vian being a French polymath, writer, poet, musician, singer, translator, critic, actor, inventor, engineer, and so forth, exemplifies the hope that somehow, and this is going to sound crazy sixty-one years almost to the date of his death, we must be Renaissance men (and women) to survive the incredibly competitive nature of our world today! Today it is not enough to be a painter for painting sake. It is not enough to be a singer as you also a musician playing an instrument. Today, it is not enough to take pictures or write sublime text if we cannot also edit and maneuver our way through the exhibition. Boris Vian is our alter-ego reminder from some bygone past that what he did then is still very much applicable today. We are novelists as much as we are also called upon to be performers. I think here the notion that we repeat the imperfections of life and living we forget! If we imagine ourselves so rude and narcissistic and to believe that history and its interpretation begins and ends only with ourselves once our time expires, we are duly bound by the foolishness of our insecurities. It happens Boris Vian is French-famous. But it happens that his existence serves as a mirror image not of his past, but our present future.
Did the pandemic affect the organization? Did you have to change, add, or cut something?
Yes, and yes! More than at any other time, the matters pressing on what we could, could not, or should do and why, weighed heavily on our decision-making. On the one hand, we have a pandemic, social distancing, social disturbances around the world on a catastrophic scale. Keeping people from getting sick, including our staff and team members, became a thing. On the other hand, we needed to protect some continuity. Even still, we are responsible to a community that has given so much to us and welcomed us from the beginning. Somewhere in all of this is caught up in a psyche, a diminished maturation. Photography is already dying a swift and steady death, at least when it comes to newspapers and magazines. We at MROF are in the business of documentary photography projects as a consequence. As such, we had to decide whether to open or not, and if we did, what version of the original show might we present?
So, we cut back, we regrouped. Instead of showing nothing, we decided to show something because hope here also had a role to play.
Hope in that this pandemic has made us all prisoners of a new and unexpected world order in which we are forced to become solitary. We are all going stir crazy being indoors with everything we've known shuttering or being canceled all around us. Our hope for opening our doors, even with a simplified exhibition, comes into play here. Ultimately, it had to do with all of the usual reasoning, but more than this, it had to do with protecting our collective human sanity.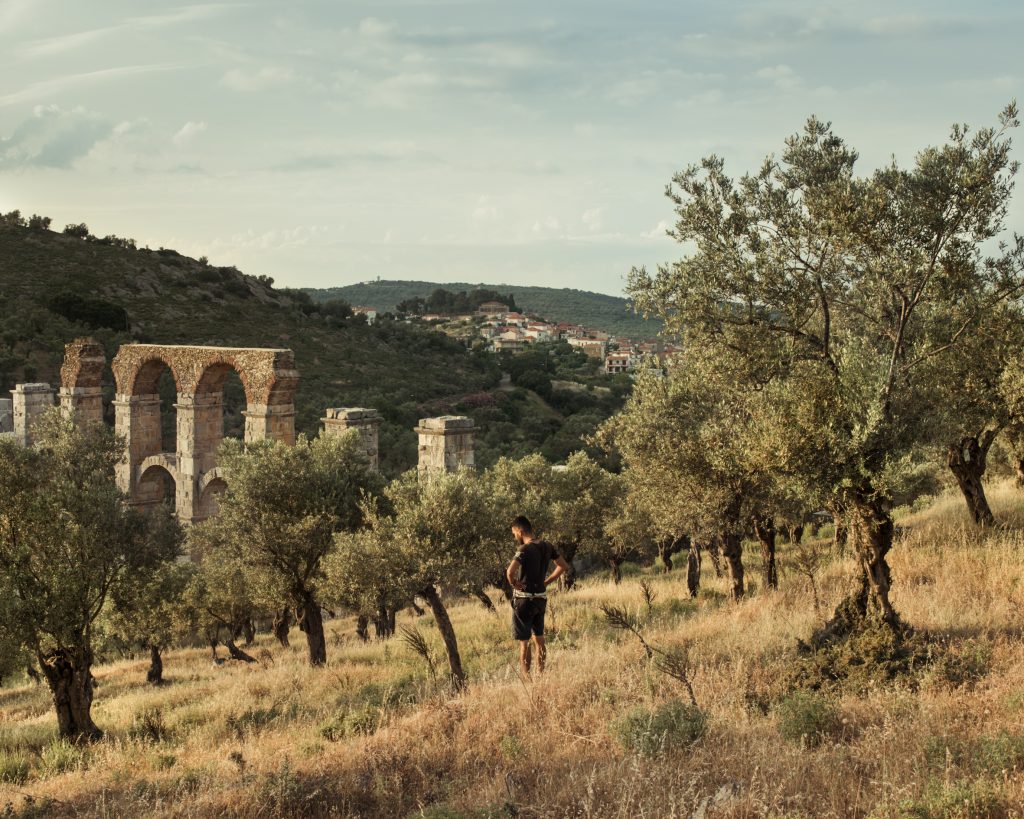 We will be without Les Rencontres for this year, but the art world took up the challenge by creating an extensive cultural program, Contemporary Arles. And also, the Foundation launched ACT, a plan to support artists. Can you tell us something about them? What will the public be able to see?
Well, with Arles Contemporaine (AC), we in Arles already had this initiative. In other words, it was already in existence before the pandemic. All we did here was revive it, give it a new purpose in the absence of Les Rencontres d'Arles, as a means of collectively becoming a part of a solution for the collective sanity of an entire community. In unusual cases such as this pandemic, it is unarguably better to join forces to quell the impossible – an airborne disease that has killed hundreds of thousands around the world! As far as ACT is concerned, the idea behind this initiative is one we had considered before but had no pressing reason to do outside of the great endeavor of putting exhibitions. Every day we see what amounts to artists struggling to survive. And so, in cutting back our shows this year and implementing safety standards with the help of the City of Arles, we also reimagined becoming a shelter for artists in this critical moment. Remember, artists, yes, we are loners, but we ultimately work better with input. In being together in our space, we provide that safe realm where they can continue joining forces and being creative while not being alone in a room.
Let's look at the future: what are the projects of MROF? And also, what are your projects as a photographer? I read you are working on a new book…
Our projects are many – or at least our hopes and aspirations for projects are many. It all, of course, presumes a return to some kind of normalcy. I'm not prepared to speak about that part of it except to say that everything we do always has to be conscientious.
Everything MROF does harkens back to my life, growing up in poverty. It goes back to silent desperation, where I didn't have a voice or a choice. It goes back to a time and a place that, like Latina author of renown Julia Alvarez writes, was of butterflies. In the Time of Butterflies, her book is titled. I say butterflies because everywhere you looked growing up in Puerto Rico, there were these butterflies – big ones, little ones, yellow ones, Monarch ones in radiant hues of brown! What should've been a time of great fortune for a child like me living on a tropical island became a time of upheaval and great misfortune instead. All of it color my today and my forever. Remnants of my past appear even in my words to you. It is on this misfortune that I hang my present and possibly my tomorrow, including my current projects such as you mention. I am working on four projects in tandem, yes. I hope these will become books. One of them is now even scheduled for production, the photography-based one. On the other three, I can say they are a trilogy based on words. Words are the beginning of my now and most likely be the closure, the swan song of my tomorrow.
On show:
LES PIONNIERS
artistic direction: Nicholas Havette
On n'est pas là pour se faire engueuler – Boris Vian
Vision of Taiwan – Wu Cheng-Chang
Exils Égéens – Mathias Benguigui, Agathe Kalfas
Giving birth in exile – Sylvie Léget
Mapuches. Kuifi Aukiñ Ñi Trepetun (The awakening of ancient voices) – Pablo E. Piovano
Ils ne savaient pas que c'était impossible alors ils l'ont fait – Andréa O. Mantovani
ACT – Action Collective Temporaire – Passage a l'act, act manque & activisme (open to public on Thurdsay evening, Friday and Saturday afternoon).
MROF – Fondation Manuel Rivera-Ortiz
pour la Photographie et les Films Documentaires
18 rue de la Calade, Arles
July 3rd – September 5th, 2020
Tue – Sat: 12:00 am – 7:00 pm