E poi la nostra meravigliosa toponomastica
[And then our wonderful toponymy] Offlaga Disco Pax, Robespierre, 2005
The Offlaga Disco Pax in their masterpiece Socialismo tascabile [Pocket Socialism] have made the toponymy of Cavriago (a small town in the province of Reggio Emilia, where, incidentally, Orietta Berti was born) an ode to communism and its memory.
For my part, I have always had a passion – often misunderstood – for toponymy. Even at university, I found the toponyms of the Middle Ages irresistible. At some point, I started to write down the funniest ones I found during my travels. One spring day, while I was going to a wedding in the province of Ascoli Piceno, the sign announcing the entrance to "Fava Lanciata" (thrown fava bean, but with lots of raunchy and silly innuendo) appeared in front of me. There, with that unbeatable toponym I happily closed the list.
I purchased Truth or Consequences by Roberto Boccaccino (Skinnerboox, 2020) as a pre-order, at the beginning of the pandemic. And I read it – and looked at it, because it is not only about words, but images of words – in one go in the car, waiting for my son and husband who were playing in the kindergarten courtyard. And I laughed. In full pandemic, a panacea.
A story of love and infidelity.
She,  "Sola | depressa | mangio | patate | nella | nostra | casa" [Alone | depressed | I eat | potatoes | in  | our | home].
The other, American, "Remember | love | fully | packed | of | many | dangers".
He,  "Cambio | vita | faccio | monaco" [Change | life | be | monk].
All around the world.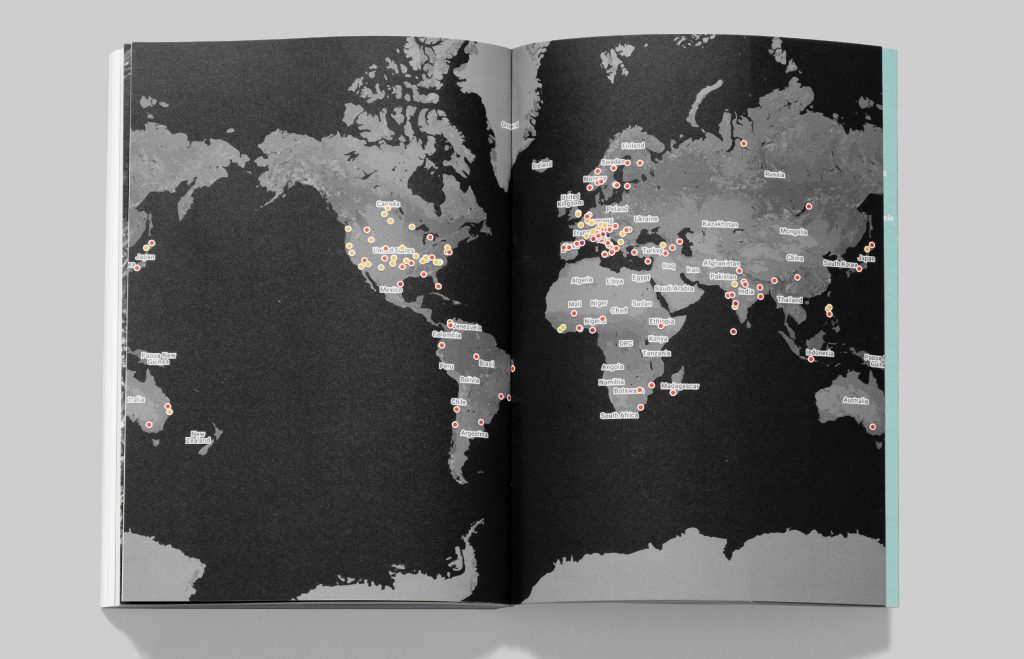 Each sentence is a journey a thousands miles long, which travels the whole globe, looking at it from a screen, and explores it on Google maps.
Luigi Ghirri in 1974 photographed the pages of an atlas, in the first of his "minimal journeys".
In this strange year, we too have surfed the internet trying to appease that unfulfillable need to be elsewhere.
@toponimia and @sadtopographies are two Instagram accounts that collect wacky toponyms on Google Maps. The first goes through Italy in search of cities, towns and places with strange names related to the news and the current events; the second finds bleak and sad toponyms all around the world.
But here, we have to invent the stories, if we like.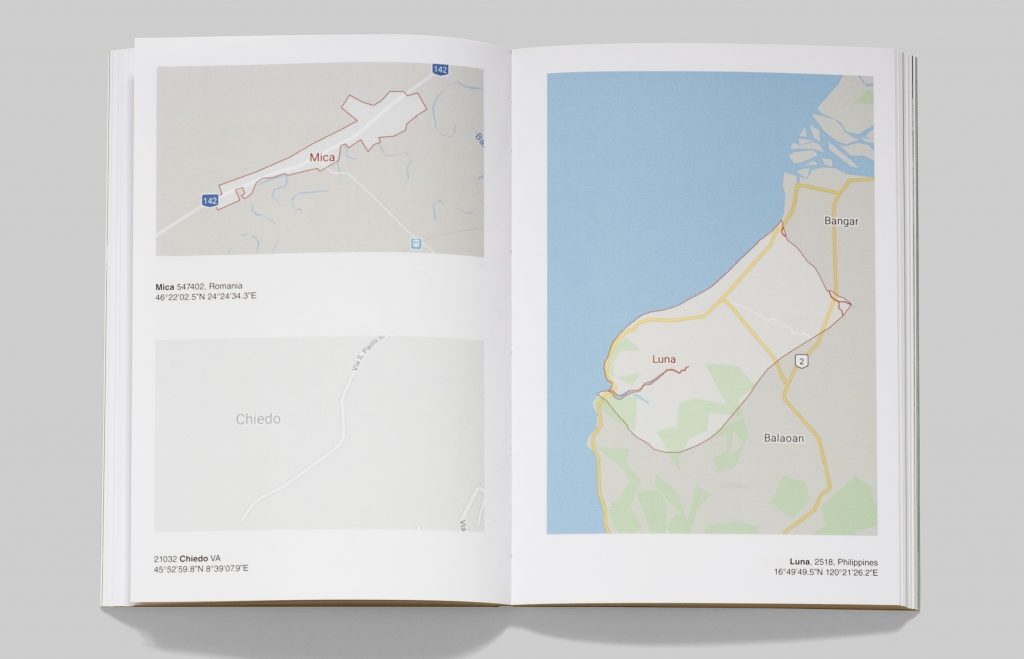 Instead, Boccaccino, on those maps,  finds a story, one of the many possible. Using a limited, incomplete, inadequate vocabulary, moreover intended for a different purpose, he constructs a story. Made unique and unrepeatable by questioning and pushing to the limit a tool that we constantly take for granted: language.
Let's understand this better.
You close the introductory text of the book by quoting Heidegger and asserting that "reality hardly ever wants to be told. Each story is a translation, and each translation is a betrayal ". I should add, quoting Paolo Fabbri, that "since languages ​​are not closed systems, every translation enriches the source language at least as much as it enriches the target language".
Well… yes. Definitely more than what a betrayal would do.
In my opinion, the point is the evolution of a language in more general terms (staying on one side of translations if you want). Language tries to evolve to keep up with reality, and ultimately also to anticipate it and to address cultural and social changes that we deem necessary. In both cases, the difference is evident: the things we live and the tools we have to represent them travel at different speeds.
The evolution of language is very powerful and in some ways also liberating (I am thinking of the word family, which today finally begins to mean combinations of people regardless of gender, marriage, children). But it is true also that a language tends to be updated contextually to progress: and progress can be deceiving, in some ways. Progress has taught us to call "travel", "nutrition", "art", "work", "war" things that are now far from their initial nature, things that seem to lose more and more their meaning, rather than updating it. And this affects heavily, and in a negative way, how we perceive life.
In the end I don't know which way is the best, I doubt there is only one. I believe it is right to create conflicts, to ask questions.
Some might ask what this work has to do with photography. How many of the limits of language and the use we make of it are similar to those of images?
It has to do with photography as much as with cinema or songwriting. The limits are those of the imagination, that's where the problem lies. The imagination is a formidable tool, which allows us to represent reality even when we don't have it in front of us. It is a huge repertoire of images (and partly judgments) that inhabit our thoughts and that we may choose to use through a specific language. From this point of view, photography, phone calls, music, poems, gestures are just tools. We can imagine Rome even if maybe we are in Benevento, and maybe we can fill that Rome with a love story on the subway, at night. And we can sing it with dark, sharp and sincere words. Something very specific, in some ways. The problem with the imaginary is that it cannot represent anything we do not already know: we do not learn anything new from the imaginary. This is why in many cases that song about love on the subway does not surprise us.
And therefore the imagination must be nourished, subverted, increased. There will always be limits, let's at least try to push them away.
The book is, in part and in a strictly literal sense, a divertissement. It is its approach that makes it so. Let me explain. Sometimes there are works with a serious vibe about them, by authors who take themselves very seriously, but in essence they are just games, often even – let's face it – not entirely necessary. Here it's the exact opposite:fun and irony are the tools to convey a very serious thought, they question the readers, they make them think. With the advantage of doing that almost without realizing it, and with a smile on their face.
Thanks, that's a nice compliment. I am happy with this work, especially with it being a bit of a sabotage. As soon as you dedicate more than a few seconds to it, you realize that you are going through different levels of meaning. But as you say maybe you realize it only after it has happened, and in the meantime you have also smiled.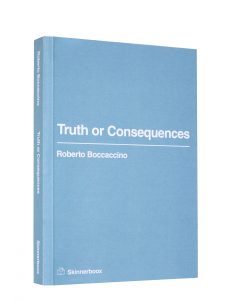 The book: 
Roberto Boccaccino
Truth or Consequences
Skinnerboox, 2020
March 29, 2021