A taste for paradox, a sense of irony and the ability to grasp the unintentionally ridiculous situations of everyday life: the inimitable English humour, which induces a slightly detached smile, almost as if the absurd were part of normality. The English photographer David McEnery (1936-2002) has interpreted this spirit in a wonderful way and with particular grace: his photographs are masterpieces of irony, often of comedy. Little jokes by images. "The funniest photographer in the world," said John Saunders, editor of Photography magazine.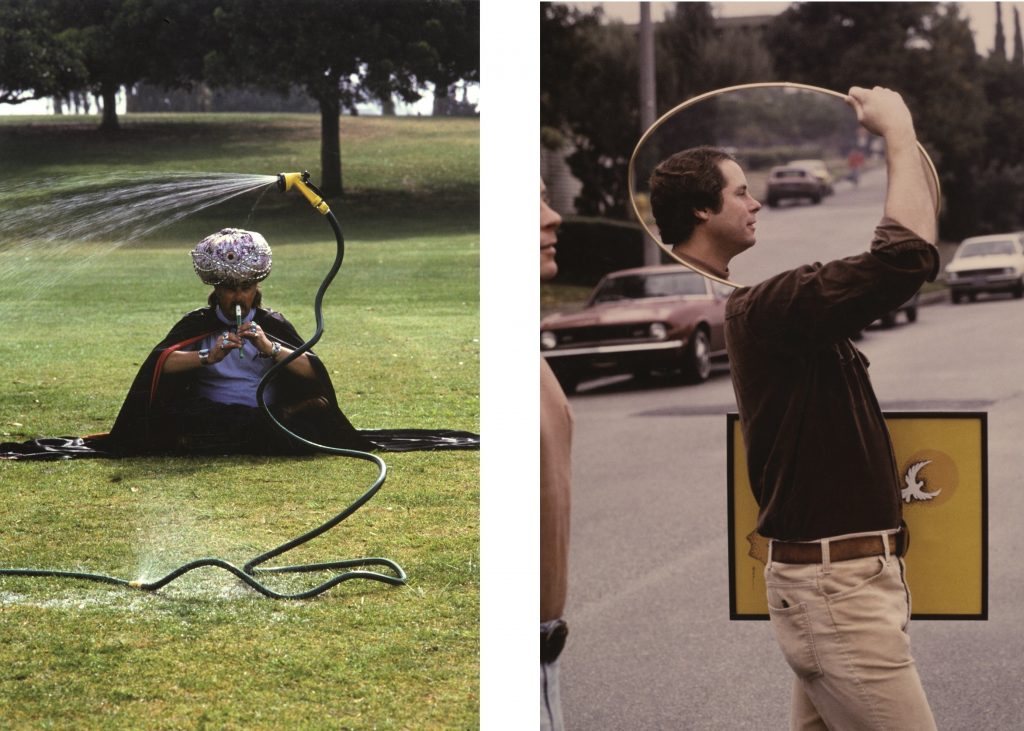 I recently visited, with great pleasure, the exhibition Creatures held at Officine Fotografiche in Rome and I came out grinning from ear to ear.
A retrospective with black and white and colour images, which throws the viewer into a dimension made of lightness and humour. Not only that: it's an opportunity to experience a time leap from a technical point of view. The images date back to the '70s,' 80s and early '90s, when photography was analogue and the photographer was considered a cross between and alchemist and an artist. McEnery was an artist of image: a purist, who has never used the flash but has always worked with natural light, waiting for the ideal condition for hours, sometimes for days, if necessary. The story is told by his wife Pat, a life partner and work companion, often present in his photos.This is demonstrated by his impeccable shots, with light caressing shapes and volumes. Moreover, McEnery has never used tricks or manipulations in the darkroom.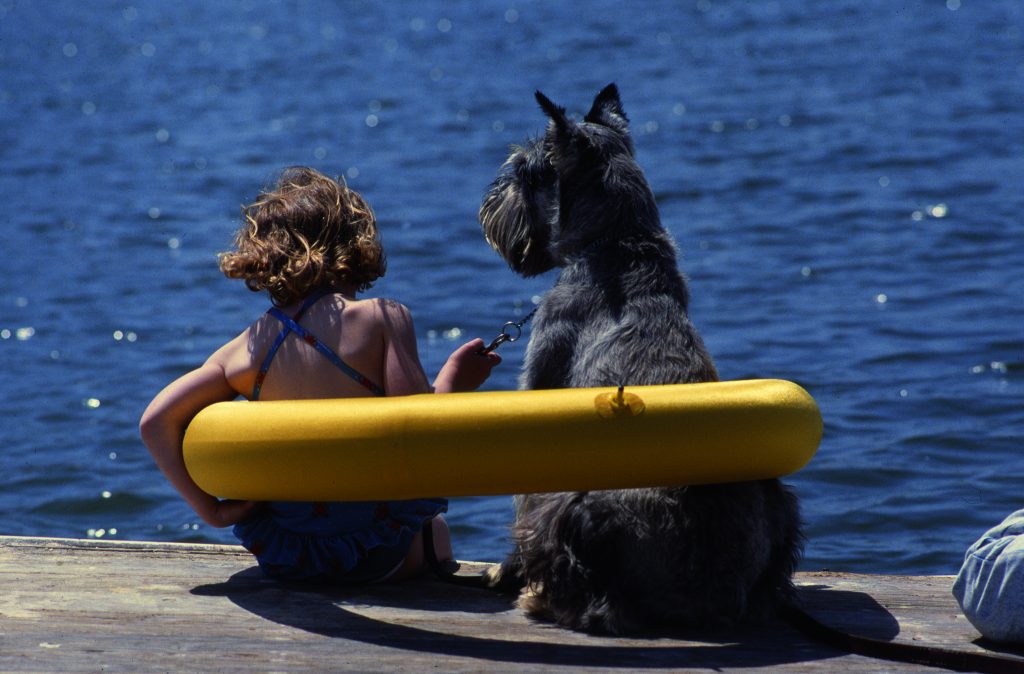 He was, instead, an artist of staging. He wouldn't wait for an intriguing situation, but he would create it himself: he would imagine it, make drawings, build models and then proceed with the shooting. On the set there were actors, regular people and animals. You can imagine how in the case of cats, dogs, frogs and pigs, photographed with glasses, silly hats or in unlikely positions, shooting became a real adventure. However, his images seem real, natural. Especially those taken outdoors, in funny situations, with bizarre characters: a little girl and her dog, by the sea, sharing a huge life preserver (Ring of confidence, 1990); a father resting in a playpen while his little boy plays on the grass (Freedom, 1986); a stuffy businessman in a bowler hat wears mismatching socks and reads a book on how to improve memory (Memory, 1974); a man and a woman carry an endless baguette in the rain, with the help of two umbrellas (the rain is artificial, the woman is his wife, Pat).

There's also a bodybuilder with a chick on his biceps (Someone say chicken, 1989) or knitting (Knit wit, 1987). Although they have a date, they are timeless shots. "David had the spirit of a child, his humour was kind and universal," his wife said in an interview. "He wanted to show the funny side of us all. He loved people and in his work he sees himself." His photographs have been published on Life, Stern, Paris Match. In 1970 he won the title "Humorous photographer of the Year" with a shot that became famous: a kitten, a child and her mother, each one comfortably stretched on a deck chair suitable for their size.

Many of his photographs, especially those that depict animals, cats in particular, have been used for posters and calendars. The English photographer plays with his beloved animals with deep empathy. He portrays them in almost human attitudes, cats either tender or charming, half hidden by big glasses; lazy and somewhat melancholy dogs, like the long-eared hound lying in a mountain of tires (Dog tired, in a very clever pun). Pigs are caught in irresistible poses, frogs are acrobats or wait, with a crown or in front of the mirror, for an unlikely transformation into a prince. A great story and a great game, always conducted with sophistication. The most beautiful shots with animals as protagonists are collected in a new book, titled as the exhibition: Creatures (2018). A strong animalist inclination pairs up with the way of looking at life of the English photographer: sarcastic but tender, sharp but loving, inimitable.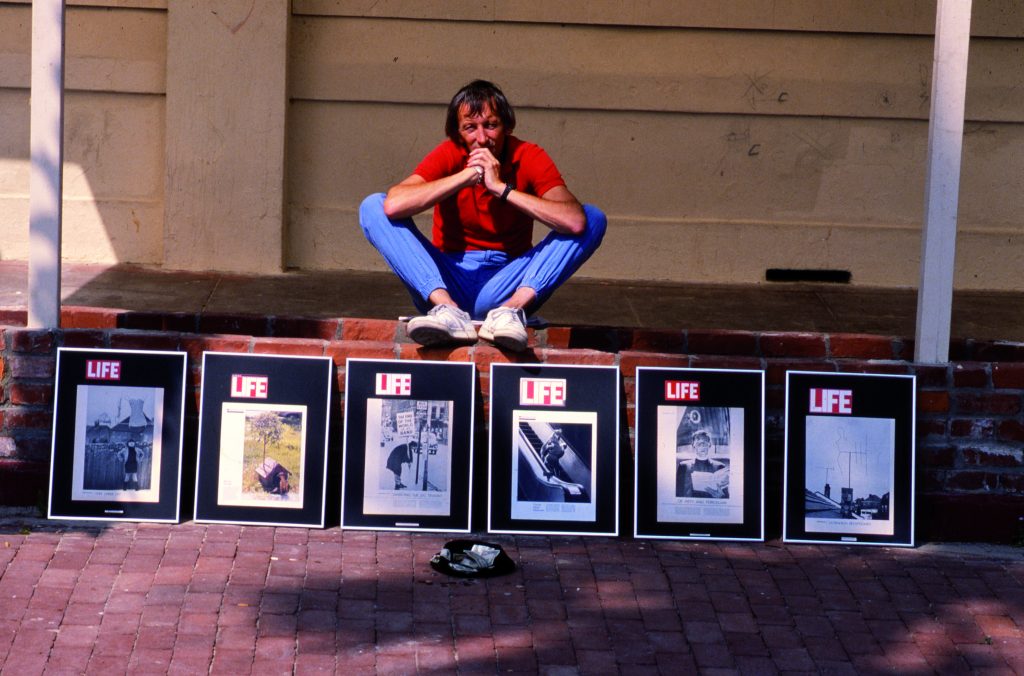 The  photographs on shown in Rome come from the Mantovani Galerie archive (www.mantovani-galerie.com) in Saint Maden (France) and the exhibition was realized in cooperation with the Associazione Culturale Ponti x l'Arte (www.pontixlarte.eu), Milan. The next retrospective dedicated to David McEnery will be hosted by DAV. Visual Arts Department of Soresina (CR), from December 6th, 2019 to January 5th, 2020.
March 6, 2019